Welcome to the Crazy Crafters' Blog Hop with our Special Guest stamper, Nadine Koller - we are thrilled to have Nadine join us this month and I'm so excited to CASE (Copy And Selectively Edit) a project that has been created by her .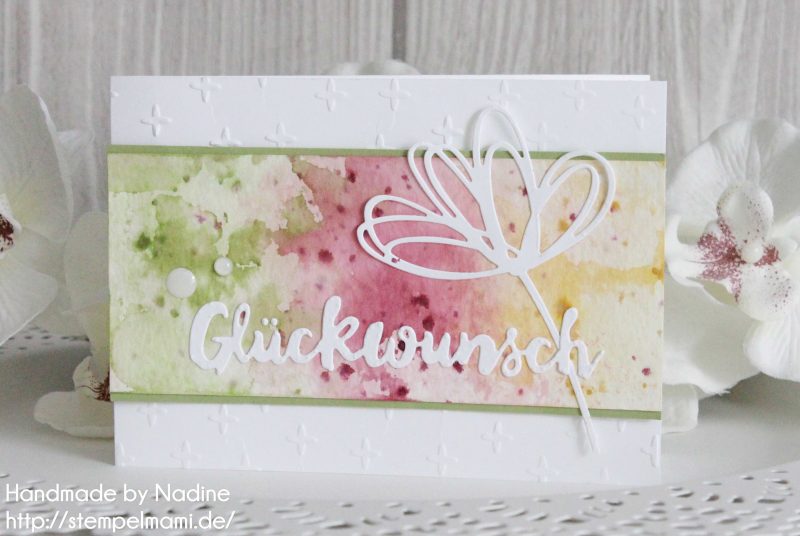 Click on image to visit Nadine's Blog
Whether you are starting the blog hop here at my blog, Stephanie Fischer - The Crafty Thinker, or have come from the person before me, be sure to click on the person listed under me further down the page to continue your journey on this blog hop.
Nadine has a beautifully delicate touch and a great eye for design and colour, so it was difficult to choose from all her gorgeous projects!
I really enjoyed browsing through her blog in her original German - just using a translator for critical bits!
What a great way that would be to learn a new language - as long as you don't rely on Google Translate, which would have us believe that the lovely Nadine might eat her children! "

My dear ones, I am swinging into our kitchen now, because our kids are all coming from the school and wanting to be eaten." Haha! Shame on you, Google!
I love the look of watercolour wash backgrounds (and Nadine is an expert!). I've never been good at them but I love this card of Nadine's so I've been practising! You'll very quickly see that my touch with colour is far less delicate and I need a lot more practice!
The watercolour wash background uses Daffodil Delight, Berry Burst and Pear Pizzazz inks
I'm hoping the colours look right on your monitor - I found I had to make some adjustments because the beautiful Berry Burst colour was looking much too blue on my screen.
To the watercolour background I added a Swirly Scribble cut in Whisper White, paper-pieced with Daffodil Delight card.
The word "Friend" is cut with one of the new Lovely Words dies - I simply snipped it out of it's little frame and glued it to a Whisper White oval cut with one of the Stitched Shapes dies. I adhered the panel to the card with Stampin' Dimensionals.
I've added some twirls of Gold Metallic thread above the oval shape for a little more interest.
The decorative panel is layered onto a piece of Whisper White card and then adhered to the front of the Berry Burst card.
I used an offcut from the front panel to decorate the inside of the card
I hope you've enjoyed this card and I welcome your comments.
Thanks for following our blog hop. Remember that currently you are at my blog - Stephanie Fischer - so click on the next name in the list to ensure that you don't miss out of seeing any of the blogs
and the amazing inspiration they contain.
Thanks for visiting
'Til next time!
Stephanie
Product List